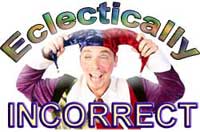 Enter our main shop here!
---
The Eclectically Incorrect Shop


Eclectically Incorrect! That's right, we're wrong. Your store for off-the-wall quality gift merchandise to hopefully bring you a laugh or at the very least, a teeny smile. (For the incredibly boring folks, we even have some serious items) We have unique quality T-shirts, sweats, skateboards, ties, keds shoes, long sleeve t's, golf shirts, ladies shirts, baseball jerseys, hooded sweats, kids t-shirts, bibs, ceramic coffee-mugs n' beer steins, caps, hats, doggie t's, barbeque aprons, bumper stickers, license plate frames, calendars, journals, stickers, mouse pads, greeting cards, prints, tile coasters, tote bags, wall clocks, tile keepsake boxes, messenger/laptop bags, fund raising buttons and magnets, collectibles, holiday items and even more. Over

20,000

items in our store alone (and counting!). With others below, there are literally MILLIONS of products available to you from shirts to electronics to jewelry and more.
And we can even customize virtually anything we have just for you.
Bookmark This Amazing Page for amazing gifts for everone!
(Not everything is incorrect, but we try!)