NOW WITH THOUSANDS OF ITEMS ON LINE!!!

Masonical Blogishness...

I give up! I'm just not a blogerer. But all is not lost! I can still aggravate you with my daily/weekly/bi-weekly/monthly/sometimes newsletter archive. If you're masochistic enough to scroll down to the bottom of this page, you'll see links to them.
June 26, 06 -Maybe you haven't noticed, but our goal is to help you raise funds and get rolling on your own humanitarian projects. It's not about our shop at all, it's about you joining us and using us to raise funds. And no, we don't mean by buying buttons or magnets.
The light is there brothers. You just need to seek. The shop was never about making money for us, it's about making money for you! Please check out our affiliate program. The less we make, the more we like it!
January 30, 06 - Oh yeah. I have a blog here. I keep forgetting about it. Hi dudes & dudettes. I hope you tried the links in our newsletter. Really some neat stuff about Masonry. Well, at least I think so. But then again, I'm easily amused.

Anyway I want to thank all of you for sending in those great ideas about new designs. So many things that just slipped my mind. (It's kind of tiny so there's not room for much) I hope you enjoy them. But that doesn't mean you are done! I hope you'll keep sending in suggestions. I'm glad a lot of you folks have questions about the affiliate program too. Lodges that have already signed up are sending in more ideas for their own designs and that's great. Fund raising is not easy in this day and age and they get to make a few bucks on the side without doing anything really.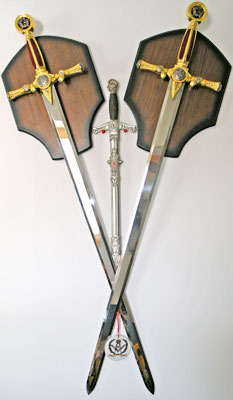 January 7, 06 - Ok, kinda sorta back to normal. Yes it's true, that's not possible for me, but hey... I'm as close as I can get to it.
Hopefully you all got everything you've ever wanted and every gift you gave was greeted with absolutely ecstatic joy from the recipient.
And if, in fact, that actually happened for everyone everywhere... we can probably look out the window and find world peace. Oh well. I guess there's always next year.
Anywho, you may be wondering about the pic to your left. It's reeealy cool! My favorite gift. It's not just a sword, it's a Masonic sword. Really neat. But oddly enough it's has an FC emblem. No idea why but that makes it even more of a conversation piece. (Yes, you can click on it for a bigger view).
I stumbled across it on Amazon (Masonic Sword
) and put it on my wish list and, lo' and behold, some fool actually got it for me. (Probably hoping I would damage myself) It sure isn't little. About 9 feet tall and 8 tons. Well, ok, not that big but it's pretty darn heavy. Even comes with a mounting plaque for the wall.
Oh, and if you want to visit Amazon.com for Masonic items, I spent some time searching thru it and came up with an Amazon page with a plethora of items devoted to our craft. You can visit it here.
Ok. I'm done boring you. (Yeah, that'll be the day!) I hope you'll keep those ideas for new designs coming in. I need all the help I can get!
December 28, 05 - Ok, that time of the year is nearly at an end. Umm.... hmmm... actually the whole year is about shot. (I guess that's the same thing but different) For those of you trying to get in touch with us and wondering where we went... well, nowhere really. Just insanely busy and I hope you accept my apologies. I'm glad it's email and don't have to pay for all those stamps!
I'll be traveling to Canada tomorrow and I'll still be kind of out of touch, but after that you'll have my full undivided attention once again.
For our new affiliates, welcome. I expect that we'll be a bit busy in the coming weeks designing just for your own Lodges. We'll certainly try to keep up our designing new items as well.
Remember, keep sending us those ideas for new designs as well. We love to make things your way.
---

Oh, and why do I say I travel to Canada? I live there. I mean here. Well, not always. Since around 2005. I'm from Pennsylvania. That's where my Mother Lodge is. My wife is Canadian and, well, you gotta do what they wanna do!
Anyway, I live in Fort Erie Ontario. About 10 minutes or so from Niagara Falls. Or Buffalo NY, depending on your perspective. But I travel back home fairly often to visit the kids, the grandkids and... yep, the great grandkids.
---
---
---
Powered by
GMO
Graphics & Layout, Copyright© 1999-2011 by
GMO Web Design & Maintenance
No part of any material on this site may be reproduced in any form or
incorporated in any information retrieval system without
written permission from the Publisher.