Brothers, Companions, Sisters:

You don't have to be in the military to wear a dog tag! The Tags below can also be custom made for your lodge or unit if you wish.
---
WOUNDED WARRIOR PRESENTATION
Local Masons Present Our Special Dog Tags
to Wounded Marines On June 23rd, 2006


---

Click on dogtags to enlarge.
Click on picture to read about the presentation
---

Click Image(s) to Enlarge
All dog tags (except the Dawg Tags at the end) include chains but you can wear it on a necklace if you wear one.
Any Engraving required can be done locally. Most jewelers will do it for you.
Homeland Security
Dog Tag
2 Inch
Brushed Pewter
Price: $14.99
Order # 710d
US Air Force Dog Tag
2 Inch
Brushed Pewter
Price: $14.99
SOLD OUT
USA Dog Tag
2 Inch
Brushed Pewter
Price: $14.99
Order # 705d
Canada Dog Tag
2 Inch
Brushed Pewter
Price: $14.99
Order # 706d
Dog Tag - Widow's Son
Brushed Solid Pewter,
Regulation Size
Price: Price: $14.99
Order # 703d
Dog Tag - Masonic Ident
Brushed Solid Pewter,
regulation Size
Price: Price: $14.99
Order # 704d

A Widow's Son
Dog Tag
Price:

RETIRED


Order # 701d

\
US Navy Dog Tag
2 Inch
Brushed Pewter
Price: $14.99
Order # 713d
US Army Dog Tag
2 Inch
Brushed Pewter
Price: $14.99
Order # 711d


UK Dog Tag
2 Inch
Brushed Pewter
Price: $14.99
Order # 707d

CF Dog Tag
2 Inch
Brushed Pewter
Price: $14.99
Order # 708d
USMC Dog Tag
2 Inch
Brushed Pewter
Price: $14.99
Order # 709d
US Coast Guard:
2 Inch
Brushed Pewter


SOLD OUT




Dog tags for Dawgs
1 1/4" - Order No. r702d
Price $11.99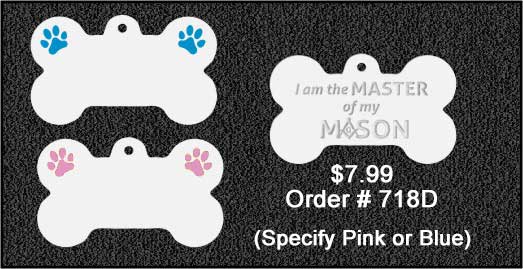 ---